Feature update – June 2015
Each month we roll out new features large and small. Below are a list of the new features we added to our Retreat Booking Guru software this last month. Enjoy!
Quickly charge balance due
Now there is one simple step to collecting any balance due via Credit Card.  On a person's registration profile, just click "Charge balance due" and receive the balance in your account.

Improved email communication
Now there are more ways to automatically communicate to your participants when important things happen.  In addition to the email that is automatically sent when a person registers we added the following:
Special notices now give you the ability to send a special notice along with the registration email for each program.  All retreats are not created equal, and now you can send different welcome and registration info for different retreats.
Schedule an email that gets sent to registrants any time before a program begins.  This email is changeable per program.  Use it to send specific instructions on practice, diet, getting here, reminders etc.
You will find these new features at the bottom of all of the program pages.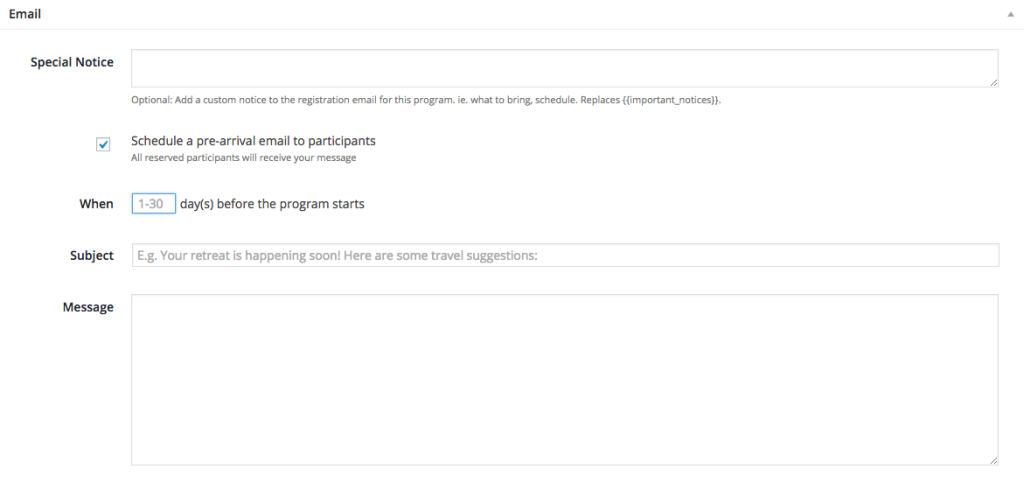 Send and track messages to your participants right from any registration profile.  Just click into the registration of the person you would like to contact and scroll to the bottom right to send a message quickly from your dashboard.  All messages you send are tracked below so you can keep your communication organized.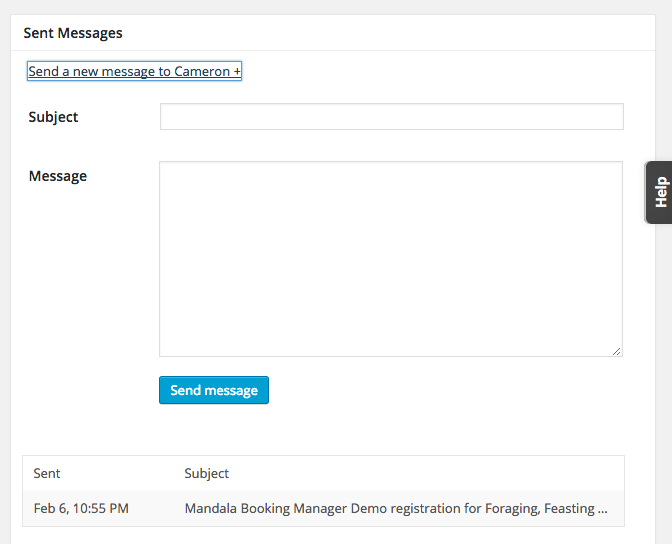 Send Payment and Cancellation emails automatically. When you process a payment or cancel a registration, you have the option to email the participant with all the financial details and a custom message from you.  View and update these email templates in your Reg. Settings > Email panel.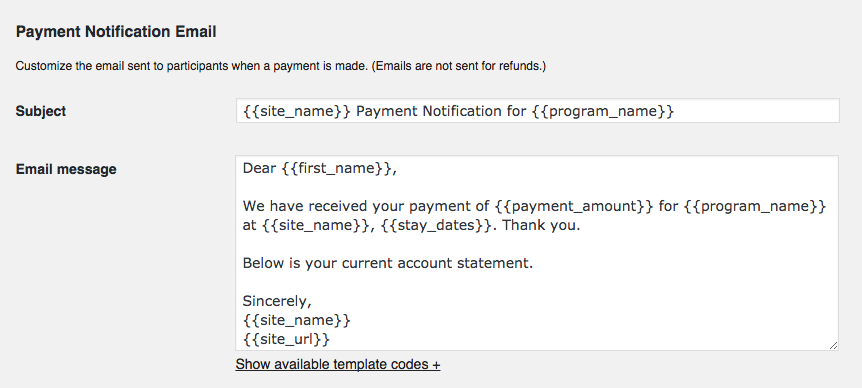 Detailed searching
Sometimes you need to sort though your registrations to answer questions like: 'who needs an airport pick up?' or "who has diet issues?"  Now you can find the data you need easily.  Just go to any question you would like to search (in Questions menu) and check the box where you want the data to show up.

Then go to the Registrations or People list page and see the question at the top of the list.
Hint: on the Registrations or People page, click the Screen Options tab to turn on or off the questions you want to see.

Making things easier to find.
No we can't help you with your car keys, but we can make things like Questions and Rooms easier to find!  We rearranged and renamed a few common items to make them more intuitive and easier to locate.
Questions (a.k.a custom fields) is now in the main navigation bar.
Lodging Types is now under Rooms
Transactions (formerly Finance) has been renamed.
Ok, not very exciting news, but hopefully this makes things easier for you.
Get reminded who has not paid a deposit
We've created a special report to show you who has registered but not yet paid anything. You can find this report under Reports > Payment Pending Registrations (Aging). We email you this report every Monday and Thursday. This is just a helpful reminder to keep you on top of your finances – there are direct links to the registrations so you can follow up easily.

We want to send a shoutout and thank you to the Temple of the Way of Light for co-funding some of these new features!