Feature Updates: August 2016
Choose how meals are reported in your kitchen reports
You can now customize the kitchen reports to specify which meals are included for arriving and departing guests. In our example below, you can see that this centre includes breakfast on the day of departure for their guests and not lunch. You can also see that any guests arriving that day are automatically included in the dinner count. It's easy to customize reports to your specific needs. The result is that now you can pull kitchen reports which give you an accurate count for each meal.
So what does a new kitchen report look like?

You now see a quick summary of total guests expected for all meals when you run a standard kitchen report, including specified dietary needs. The example below shows what happens on a day when one program ends and another begins.
You can learn more when you view our help documentation here.
Set the start date(s) for your package programs
By managing what days a package program can begin, you can plan more effectively- and you may also increase your enrollment by providing less options. With this updated feature a package date program now excludes days of the week that a packaged retreat can start.

In the example below, Sunday through Wednesday are selected as days when a 3 day package program can NOT start. This means that anyone can arrive on a Thursday, Friday or Saturday and stay for 3 days.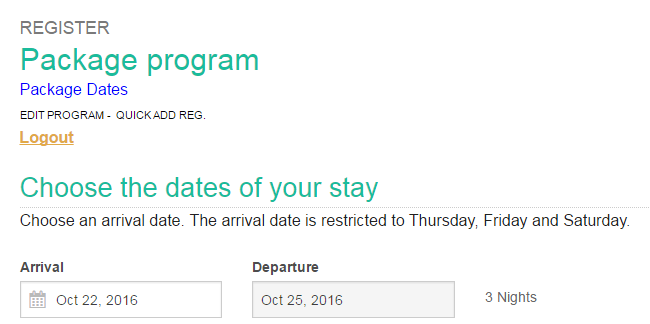 Now when a client lands on your registration page, they can only select Friday through Saturday as start dates for their package program.